This post contains affiliate links. We earn commissions if you purchase products from retailers after clicking on a link from our site. As an Amazon Associate, we earn from qualifying purchases.
There are so many options for bongo drums– it can be hard to know what quality you need and how much to spend. That's what this post is all about. Finding the right quality bongo drum for you.
By the way, looking for recording equipment and musical instruments? Check out Sweetwater.com for microphones, monitors, audio interface or any other recording gear that you could ever need. (Affiliate Link)
Bongos come in three broad price categories:
Beginner (entry-level)
Enthusiast
Professional
The first step is picking what price category you want to look into.
Deciding on Your Quality Level
I am a firm believer in matching your gear to your skill, or having gear slightly above your skill level so you have room to grow into it.
You wouldn't hand the keys of your new Cadillac Escalade to your teenager with their brand spankin' new learner's permit, right?
The same goes with bongos and instruments. If you're just starting and you're wanting to pursue bongos as your instrument, you should look to the bottom of the enthusiast-level price level or at the middle and top of the beginner-level price categories.
If you are looking for bongos for a new student, then you should go for the middle or top of the beginner price category.
If you're a serious student and looking for an upgrade, even the most expensive bongos aren't that expensive in comparison to many other instruments. The enthusiast price category is a comfortable category for someone who wants to take their learning to the next level.
The professional price category has the bongos that are made out of the most resilient materials. These bongos can last for decades (not the same drumheads, though), and can be even be heirlooms.
If you are looking for career bongo drums then you should look in the professional price category.
What's the Difference in Quality Between the Three Price Categories?
Turns out there is a big difference between $50 bongos and $500 bongos. There are important differences in materials, construction, and even in sound quality if you know what to look for. If you want to see the differences between inexpensive bongos and top of the line bongos, check out my article here that goes in depth and explains the cost differences.
Choosing the Best Beginner Bongos
I'm going to give a recommendation of the best beginner bongos in this category, but I'll also try and tell you what to look for if you'd rather do your own research and try out bongos in person.
The Best Beginner Bongos
Beginner bongos are usually in the $40 to $90 price range.
If you're looking for new, I would go with the Meinl HB50BK bongos with the ABS shell (Amazon).
Here's a demonstration of the bongos from Meinl:
Meinl has a reputation for making decent bongos with good hardware in this price range. These bongos aren't an exception. You'll find some of the flaws common in less-expensive bongos, but there's a lot of good going for these bongos.
Affordable price range—These bongos are in the sweet spot for beginner bongos. If you are buying these for your child who is getting started but don't want to break the bank, these will provide the education and even sound decent while they practice.
Fully-Featured–Some of the less expensive bongos are not fit for playing in music as they are not tunable or are lacking important hardware. The HB50BK has the essentials that professional bongos (albeit perhaps at a lower and more manufactured quality)
Animal-skin drumhead–These bongos are advertised to use buffalo skin drumheads. Not to say that synthetic heads can't sound good, but it's a plus to have a more authentic feeling bongo experience, especially as you're learning.
Solid Body Construction— ABS isn't indestructible but it's a very strong material that will retain its shape–an excellent choice for a drum especially in humid climates.
All in all, these are some of the best value bongos you can get for the money and are an excellent choice for a beginner.
What To Look For In Beginner Bongos
You're not going to find all the frills in a set of beginner bongos. There aren't very many frills to begin with since the bongos are a fairly simple instrument in concept. However, these are things to look for when buying beginner bongos.
It's helpful to know what all the parts of the bongos are called so you can be more informed in your own personal examination. Check out our post on bongo drum anatomy for a full breakdown, but I'll include the summary image here so you can get an idea: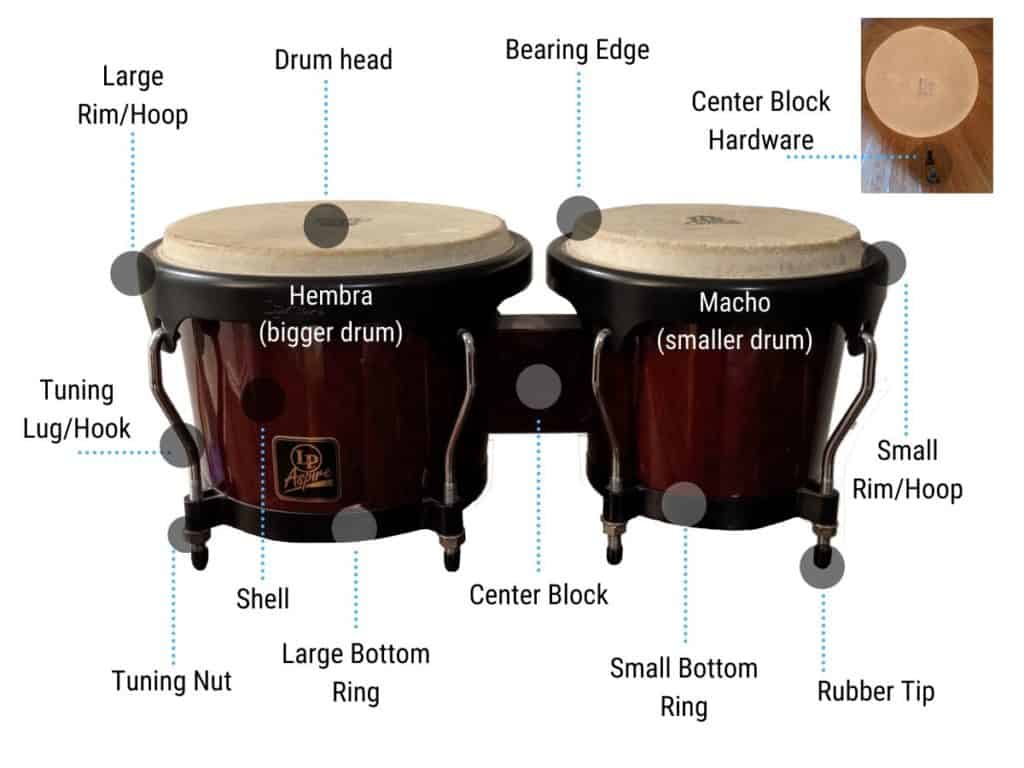 Condition of the Drumhead: Drumheads can be replaced, but when your bongos cost $70, replacing the drumhead is a significant proportion of the total cost of the bongos. Look closely at the surface of the drumhead and look for defects or weaknesses in the skin. It's common for there to be grooves or aberrations in animal skins and there's no problem with that, but some weaknesses are more obvious that will turn into tears.
Quality of the Drumhead: The term don't look a gift horse in the mouth comes to mind. You can't expect amazing drumheads in this price range. However, thick drumheads often sound very flat and dull. Edge towards drumheads that are even and consistent and thinner (if light can't get through them then it's probably too thick of a skin to be okay quality)
Quality of the Hardware: Feel the tuning lugs–are they made of a cheap metal? Do they feel flimsy? These tuning lugs are what makes your bongos bongos. If these bend or bow in any way then your bongos usefulness drops dramatically. Examine the rim to ensure evenness and then examine the bottom ring to determine its strength.
Shell Construction: If you're getting wood bongos, then one thing to look at is the inside of the drum. Bongos are made from rectangular slats glued together. (check out my bongo anatomy post I mention above to see an example of this). If there are gaps or unevenness in the slats you'll likely run into tone issues. Take a look inside and check for any surprises.
Rubber Tips: This is a tiny detail, but it's really nice if the bongos come with rubber tips on the tuning lugs so they don't jab into your leg if they are sitting on your lap. Even in this price range it's something to look for.
What to Avoid in Beginner Bongos
I mentioned some of these in the previous list, but here are a couple things to watch out for:
Is the bongo tunable? Don't ever buy bongos that aren't tunable. Bongos that aren't tunable are mostly constructed for tourists and are for looks and not for someone wanting to play the bongos.
Opaque drumheads: Cheaper drumheads come with the territory–but some drumheads are more thick and less finely constructed than others. A tell-tale sign are drumheads that are so opaque that barely any light (if any) can pass through.
Best Enthusiast-Level Bongos
Enthusiast-level bongos are bongos for the player who picks up the bongos occasionally and appreciates decent quality–or perhaps you're a multi-instrumentalist and you play the bongos in several of your songs.
Or perhaps you love music and want bongos that sound good for an occasional jam session or recording. Or maybe none of those!
In any case, enthusiast-level bongos will last you for years if taken care of and will give you good tone. To be honest, the difference in tone for non-bongo enthusiasts after this point will be harder to spot out. Meaning, for the layman, you can get all the quality you want and need out of the enthusiast-level price range.
Time and again, the LP Matador's are recommended as the go-to for a decent quality bongo drum.
It seems that many bongoseros have a love-hate relationship with LP, most likely due to the fact that LP has grown in size and market penetration and isn't as homemade as they used to be. However, Matadors are a quality instrument, and whatever people feel towards LP, bongoseros will still recommend the Matador.
You can check them out at Sweetwater right here.
If you want to save some money and perhaps get some more bongo for your buck, you can look for Matadors on eBay. These are durable and relatively simple instruments so buying used is not as high risk.
The Matador drums have a lot of awesome going for them:
Solid and clear tone.
Beautiful finish–it can't be argued that the drums just look good
Decent quality hardware–the drums are no frills in amenities but provide all the necessities.
What To Look For in Enthusiast-Level Bongos
Once you start becoming a serious bongosero, you will start to set your sights higher. I've been doing research in the bongo player community and bongo drum quality is taken very seriously. While a guitar player may not really hear the subtle differences between bongo drums, a bongosero wants the best quality possible.
If you're not there yet, that's completely fine–unless the bongos are one of your main instruments, the enthusiast level of drums will be just fine for you.
Many of the same characteristics that are important to look at in the beginner bongo drum category also apply in the enthusiast-level bongo drum category. However, you're putting more money in so your expectations should be much higher.
Drumhead Quality: A pro-bongosero may do what pro-bongoseros like to do and trade out the heads on any set of bongo drums they get, but you really should be able to get enthusiast-level bongos with drumheads that are in a playable state that sound decent. If the drumheads don't sound good to you day 1, look for another set of bongos.
Shell construction: Most bongos in this category are going to be made from rubberwood staves (slats of wood glued together to form the ring), similar to the beginner category. Just make sure there are no defects or gaps between the staves (look in the bottom of the bongo drums)
Alternate suspension: In this price category you'll see some alternate construction styles, such as the Meinl Free-Ride suspension system, which essentially means the bongo drums are connected without hardware screwed through the wood so the drums are able to resonate better.
Attractive veneers and moldings: The cheapest bongos look fine, but definitely plain. It's in this category where the aesthetics are taken up a notch and you'll see bongos with molding and more natural wood veneers.
Solid hardware: Even the nicer bongos in the beginner-level category aren't expected to have super nice hardware–in the enthusiast level, you can and should expect hardware that will not give you any issues for years. You should be able to play bongos in this price category through many sets of skins.
What To Avoid in Enthusiast-Level Bongos
Looks are not everything, with people and with bongo drums. It's easy to get the prettiest bongos, but I do recommend, if you can, to play the bongos yourself before buying. If you can't, or if it's not feasible, at least listen to as much as you can of those bongos on YouTube.
Many bongos in this category are still machine-made, don't expect a complete lack of defects. Make sure and give your bongos a once-over to make sure there are no cosmetic issues, or more serious problems. Play some rimshots and play all around the drumheads to ensure evenness and that there are no gaps in resonance or buzzing or any kind of sound issue due to bad construction.
Best Professional-Level Bongos
This is the hardest category to write for because the opinion of what the best bongos are is wide and sprawling. Many bongoseros believe that quality drumheads are more important than the shell. While others swear that the shell of the drum makes huge difference in tone.
In other words, once you pass a certain amount of money, the differences in quality between one set of professional-level bongos and another are harder to differentiate.
In any case, you are looking at spending at the very least $200 (if you get super lucky and get some used bongos) up to $800 or even $1000.
What complicates this question even more is that many bongo aficionados prefer custom-made bongos. Some of these bongos are made-to-order and are customized according to the bongoseros needs, which means the price will vary a lot.
Although it's a very difficult thing to say what is best, from my market research, over and over again bongoseros recommended Moperc.
You can check out their line-up here.
These are hand-crafted, and are sold directly from the maker. You can't buy these in stores, and you even have to call to get a quote.
Some characteristics of these famous bongos:
Solid Wood construction: Rather than the stave construction that is very common, these bongos are made from solid blocks of wood.
The center block is embedded into the shell which eliminates the possibility of splitting at the hardware
Very tough hardware: one look at the the hardware and you don't see any glitzy chrome–this hardware is meant to last forever.
Beautiful aesthetics: Each price category is nice aesthetically in their own right, but you can definitely see a difference in quality in the wood and hardware
This is a fantastic demo of the Moperc Cubano bongos, the LP Generation II, and the LP Matadors.
What To Look For in Professional-Level Bongos
This price range is huge… anywhere from $200 to $1000. Some things to expect and look for, though on your hunt for the perfect bongo drum set for you:
Solid Wood Construction: At the top of the enthusiast level and throughout the professional-level price categories you'll see solid wood construction bongos. This isn't universal–rubberwood stave construction can still be found in professional-level bongos that sound really good. It's in this price category though that you'll see white ash, oak, mahogany or other premium woods. This means that many bongos in this category are heavy.
Decked out aesthetics: The LP Giovanni bongo series are examples of what you'll see: really high quality aesthetics making the crowd's eye's pop with jealousy (if they know bongos that is.)
Custom designs: custom-made bongos are often tailored for the bongosero, sometimes even with their names engraved or other customizations that you don't see in the less expensive price ranges. The shells themselves will be hand-sculpted and routed giving off some really cool effects.
Alternate Acoustic Designs: Many of the less-expensive bongos seem to follow a very predictable form. You'll see the more custom bongo drums with more of a variety of shapes (more or less conical or cylindrical, etc).
Communities of hardcore fans: You'll see many of these bongos tin this price category "Harley" status, with hundreds of serious fans touting a particular make and model.
What To Avoid In Professional-Level Bongos
First off, I'd avoid getting professional-quality bongos unless you've spent some time in the beginner or enthusiast-level bongos.
Bongos aren't like guitars or other instruments where the quality of the instrument can seriously impact your learning. The mechanics of the drum are very close even if the sound quality is very different.
Secondly, the polish looks nice, but one super easy way to get really nice bongos is to buy used. Often bongoseros accumulate many sets of bongos and are happy to part with very high quality bongo sets.
eBay is one popular venue , but I'd recommend joining a Bongo drum Facebook group. People are buying and selling each other's bongo drums all the time, often for a reasonable price with a higher assurance that you're getting a good quality instrument (if you can establish a relationship).
Upgrading Your Bongos
Before you go out and buy some new bongos, there might be a way to push your bongos to the next level without having to buy a whole new set.
Replacing the Drumskins
As I've mentioned above, scouring through many discussions among bongoseros, one common theme is that the shell of the bongo will only take you so far and it's really the drumhead that really defines the sound of a bongo drum.
In fact, I joked about it earlier, but it's not uncommon for bongoseros to replace the drumheads of their new bongos (arguably whether they need replacing or not). It's just a quick and fast way to get the sound you want.
One well-known player in this field is Manito Percussion. Not only do they make conga and bongo drums, but they also sell premium drumheads for bongos and congas. It's a simple way to upgrade your bongo drums. Premium is the key word here, though. These aren't cheap.
All-In-One
The easiest way to change your drumheads is to get premounted drumheads. You just buy the drumhead that is already attached to the hoop. You remove your existing drumhead and then put the all-in-one drumhead in its place and attach the rim.
This is a preferable solution for many people because it can be a lot of work to mount and cut your own animal skins.
DIY Animal Rounds
The DIY method of your mounting bongo drum skins. You simply get a sheet or round of animal skin and then you tuck the skin underneath a hoop (harder than it sounds).
I actually go over the steps in more detail at the end of this post (with an instructional video) here if you are interested and intrigued in mounting your own drumheads.